Auto/RV Loans
No matter where you're going or how you plan to get there, a loan from Compass Community Credit Union is the way to go.
You can even get pre-approval by us, then go ahead and shop with the power of knowing exactly how much you can afford. Negotiate for a "cash price" with the confidence of knowing you're not only getting the best price, but the best loan rate, too!
Auto Loans
No cash for a down payment? We can finance up to 120% on new vehicles and up to 115% on used vehicles for qualified buyers — with a range of repayment terms. A Compass CCU representative can point you to the loan that's right for you.

Not a current Compass member yet? Click here to apply for your loan online.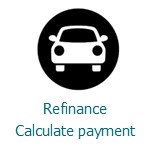 Car Shopping Made Easy
Search inventory and save time and money. Free CarFax®, vehicle comparisons and more.
Ready to start shopping?
RV, Boat & Motorcycle Loans
"Does that credit union near me have loans for RVs, boats, and motorcycles?" You bet we do. And the dedicated representatives at Compass Community Credit Union can make sure you find the one that's right for your needs.

Not a current Compass member yet? Click here to apply for your loan online.
The Truth about Dealer "Zero-Percent" Financing
Those ads that promise 2.9%, 1.9%, or even 0.0% dealer financing are pretty enticing, aren't they? Well, they're not always the great deal they seem, for a few reasons:
First, not everyone gets the "bargain" rates at the dealer, if you have a really high credit score you're OK, but many people don't qualify
The terms on these loans are often short, so monthly payments are higher
Cash rebates or incentives of $1,000 and more are often available — but only if you don't do the dealer's 0.0% loan
When you finance your next vehicle with Compass CCU, take advantage of dealer rebates or incentives AND get an amazing loan with terms you can live with. For more information, call us at 707-443-8662.